Commissioned Corps E-Bulletin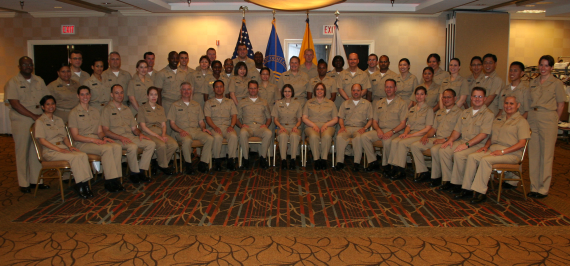 Graduates of Officer Basic Course 32
and
Distinguished Graduate Award Presented at Office Basic Course 32 (see photo)
and
Honor Squad for Officer Basic Course 32 (see photo)
The Commissioned Officer Training Academy, in association with the Office of Force Readiness and Deployment, wishes to extend congratulations to graduates of the Officer Basic Course (OBC) 32.

OBC training is a 2-week course of study for new calls to active duty to the Commissioned Corps of the U.S. Public Health Service (Corps). Officers learn about the history of the Corps and establish a foundation of knowledge in preparation for their Corps careers.

Congratulations to the following officers who graduated on 23 April 2010.


| | | | |
| --- | --- | --- | --- |
| Rank | Name | Category | Operating Division/ Staff Division/ non-HHS Organization |
| CDR | Eric J. Kasowski | Medical | Centers for Disease Control and Prevention (CDC) |
| LCDR | Eric E. Abat | Nurse | Indian Health Service (IHS) |
| LCDR | Marion C. Beck | Nurse | U.S. Marshals Service USMS) |
| LCDR | William E. Bolduc | Health Servicers Officer (HSO) | Department of Defense (DoD) |
| LCDR | Michael R. Clark | Pharmacist | Federal Bureau of Prisons (BOP) |
| LCDR | Giles D. Durano | Nurse | Department of Homeland Security (DHS) |
| LCDR | David W. Hess | Scientist | DoD |
| LCDR | Brian A. Molloy | Nurse | IHS |
| LCDR | Luke L. Schulte | Engineer | IHS |
| LCDR | Kathleen A. Williams | Nurse | BOP |
| LT | Esteban D. Acosta | Nurse | IHS |
| LT | Kari A. Belin | HSO | Food and Drug Administration (FDA) |
| LT | Lessina L. Dele | Pharmacy | IHS |
| LT | Sonjia A. Grant-Howard | HSO | DHS |
| LT | Adrienne J. Hall | Nurse | DHS |
| LT | Hilary C. Hoffman | HSO | FDA |
| LT | Jason A. Hrdlicka | Engineer | IHS |
| LT | Denise D. Jones | Nurse | IHS |
| LT | Muhammad Kanakri | Pharmacy | IHS |
| LT | Xiaowu Lu | Scientist | Office of the Assistant Secretary for Preparedness and Response (ASPR) |
| LT | Tamala B. Middleton | Nurse | BOP |
| LT | Mario F. Murray | Engineer | BOP |
| LT | Ruiqing Y. Pamboukian | Scientist | FDA |
| LT | Mahesh R. Ramanadham | Pharmacy | FDA |
| LT | Luis A. Ramos-Ortiz | HSO | IHS |
| LT | Craig D. Rennard | HSO | IHS |
| LT | Kelly M. Summers | Pharmacy | FDA |
| LT | Yiying Tsai | Pharmacy | FDA |
| LT | Inna I. Voinich | Pharmacy | IHS |
| LT | Angela J. Zimmerman | Nurse | IHS |
| LTJG | Diane E. Acosta | Nurse | IHS |
| LTJG | Shaun W. Billingslea | HSO | Centers for Medicare & Medicaid Services (CMS) |
| LTJG | Cynthia N. Chennault | HSO | IHS |
| LTJG | Benigno B. Devera | Engineer | FDA |
| LTJG | Melinda R. Frank | HSO | CDC |
| LTJG | Paige K. Geffre | HSO | DHS |
| LTJG | Timothy K. Harris | Nurse | IHS |
| LTJG | Dellarese L. Herbert | Nurse | FDA |
| LTJG | Victoria N. Moma | HSO | BOP |
| LTJG | Lisa H. Nakagawa | Environmental Health Officer (EHO) | IHS |
| LTJG | Marjorie D. Santos | Nurse | CDC |
| LTJG | Timothy A. Shelhamer | EHO | IHS |
| LTJG | Michael R. Shilhanek | Engineer | IHS |
| LTJG | Stephen F. Sizemore | Nurse | BOP |
| LTJG | Rudolph R. Small | Nurse | DHS |
| LTJG | Paula G. Thompson | Nurse | IHS |
| LTJG | Nadine A. Tipton | Nurse | BOP |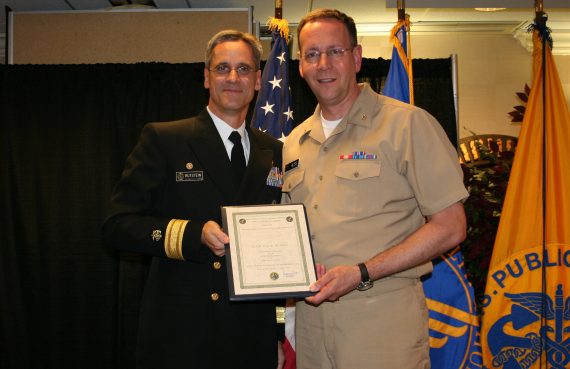 Distinguished Graduate Award Presented at Officer Basic Course 31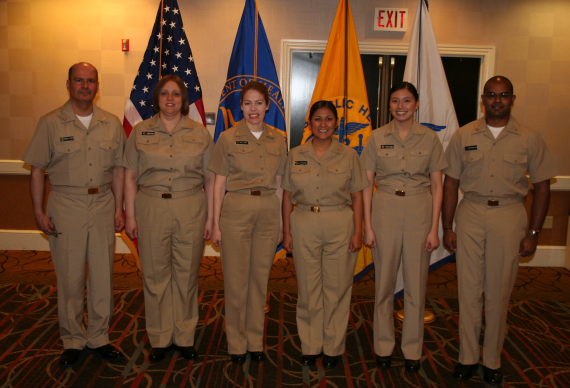 Honor Squad for Officer Basic Course 31