News in Brief...
---
In This Issue...
---

USPHS Engineer Named 2006 NSPE Federal Engineer of the Year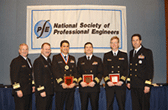 CDR John Cardarelli II, USPHS, was named the National Society of Professional Engineers (NSPE) '2006 Federal Engineer of the Year' on 23 February, during National Engineers Week at the National Press Club...see full story

Pandemic Influenza – Be Aware and Be Prepared

We have seen in recent years how health issues can affect our Nation. Events like the anthrax attacks and the hurricanes have tested our preparedness and response capabilities...see full story

2006 Promotion Update

IMPORTANT INFORMATION FOR OFFICERS WHO ARE UP FOR PROMOTION! The 2006 promotion cycle is well underway and progressing as scheduled. At the end of the promotion boards, the Office of Commissioned Corps Operations (OCCO) conducts an administrative review of all officers who are in the successful promotion pool...see full story

Restoration of Forfeited Annual Leave in Conjunction with the 2005 Hurricane Response

On 25 January 2006, the Assistant Secretary for Health signed Manual Circular No. 381, "Annual Leave – Implementation of Special Leave Accrual Policy...see full story
Features...
---

Office of Force Readiness and Deployment

As of the beginning of April, officers in the Commissioned Corps of the U.S. Public Health Service (Corps) are still caring for the victims of the 2005 hurricanes in the Gulf Coast area. The Office of Force Readiness and Deployment (OFRD) continues to deploy officers to the Joint Field Office in Baton Rouge...see full story

Call for Nominations
---

Recent Calls to Active Duty | Short Tours | Retirements | Recent Deaths
---
DHHS, Office of Public Health & Science
Office of Commissioned Corps Force Management
Tower Building
1101 Wootton Parkway, Plaza Level 100
Rockville, MD 20852