News in Brief...
---
In This Issue...
---

Designation of Flag Grade Billets and Flag Grade Promotions

A current list of flag grade billets has been approved. This is the first review and assessment using the new process described in the Subchapter CC23.4, INSTRUCTION 7 "Flag Grade Officer Selection and Assignment"...see full story

New CPO for the Scientist Category



CAPT Helena O. Mishoe was selected as the Chief Professional Officer for the Scientist category effective 1 August 2005. As Chief Scientist Officer, she is responsible for providing leadership and coordination of Public Health Service (PHS) scientist professional affairs for the Office of the Surgeon General (OSG) and the Department...see full story

Promotion Ceremony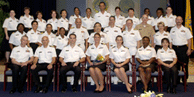 The 3rd Annual National Institutes of Health (NIH) Promotion Ceremony for U.S. Public Heath Service Commissioned Corps Officers was held in Masur Auditorium on 27 July 2005. Twenty-nine Corps officers who work at NIH were honored....see full story

FIT FOR DUTY. . .FIT FOR LIFE!
Four out of every 10 White women age 50 or older in the United States will experience a hip, spine, or wrist fracture sometime during the remainder of their lives; 13 percent of White men in this country will suffer a similar fate...see full story

PHS Instrumental Ensemble


All sights were set for the Commissioned Officers Association's (COA) 40th Annual Public Health Professional Conference at the Wyndham Franklin Plaza Hotel in Philadelphia, PA, 6-9 June, 2005. Quietly behind the scenes, officers of the Public Health Service (PHS) Instrumental Ensemble had been practicing, readying their instruments for the annual get-together...see full story

APAOC Successfully Implements an Online Voting System
The Asian Pacific American Officers Committee (APAOC) successfully implemented an online voting system to enhance the ability of the committee to conduct official business...see full story

Deployment to Haiti Following Hurricane
Rusted metal hospital bed frames, piles of mud-covered debris, water lines on the walls reaching upwards of eight feet—these are all images encountered during a surveillance of La Providence Hospital in Gonaives, Haiti...see full story
Features...
---

The Junior Officer Advisory Group
This article kicks off the first official column in the Commissioned Corps E-Bulletin for junior officers in the Commissioned Corps of the U.S. Public Health Service (Corps)...see full story

Office of Force Readiness and Deployment

Awards

Call for Nominations
---

Recent Calls to Active Duty | Short Tours | Retirements | Recent Deaths
---
DHHS, Office of Public Health & Science
Office of Commissioned Corps Force Management
Tower Building
1101 Wootton Parkway, Plaza Level 100
Rockville, MD 20852