News in Brief...
---
In This Issue...
---

Meet the New Chief Professional Officer for the Engineer Category




RADM Richard F. Barror is the Chief Engineer of the U.S. Public Health Service (PHS) and a Senior Advisor, Office of the Commissioner, Food and Drug Administration. As Chief Engineer Officer, RADM Barror is responsible for providing leadership and coordination of PHS engineer and architect professional affairs for the Office of the Surgeon General...see full story

2006 USPHS Professional Conference – May 1-4, 2006

The recent events in the Gulf Coast and concern about a potential influenza pandemic underscore the urgent need to foster cross-governmental leadership, creative thinking, and innovative approaches to address both the short-term and long-term public health challenges facing our Nation. These important challenges will be the focus of the 2006 U.S. Public Health Service Professional Conference, which will be held May 1-4, 2006 in Denver...see full story

USPHS Pharmacy Category Celebrates 75th Anniversary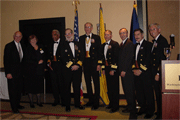 On Friday, 18 November 2005, the Pharmacy category of U.S. Public Health Service (PHS) Commissioned Corps celebrated its 75th Anniversary in Gaithersburg, MD, by honoring past and present Chief Pharmacists/Flag officers. The banquet was attended by over 180 pharmacists, spouses, family members, and friends....see full story

75 Years of Pharmacy in the U.S. Public Health Service – The Deep Well

On 18 November, my wife and I attended the 75th Anniversary celebration and recognition banquet for the Pharmacist category of the Commissioned Corps of the U.S. Public Health Service (Corps)...see full story

Advice to Corps Officers for the New Year. . .from the Surgeon General

With the Secretary's decisions on Transformation of the Commissioned Corps, there are many activities and actions in store for the new year. As we come to the close of the calendar year, I would like to take this opportunity to write about some important end-of-the-year issues....see full story

2005 Promotion Results & Information on Promotion Year 2006

The 2005 permanent grade promotions have been released and are posted on the Commissioned Corps Management Information System (CCMIS) Web site....see full story
Features...
---

'Twas the Night Before. . .the APFT

'Twas the night before testing, when all through the place, Not a person was running, not even for chase. My old socks were stuffed in my sneakers with care, In hopes that the APFT would not near...see full story

Fit For Duty. . .Fit For Life!

As the holiday season is now in full swing, the U.S. Public Health Service Dietitian/Nutritionist Professional Advisory Committee (D/N-PAC) continues with a series of articles aimed to provide suggestions and encouragement to make it a happy and healthy one. This article provides suggestions to make your holiday entertaining events both a joyous and healthy event for all to share...see full story

Call for Nominations
Training Opportunities...
---
---

Recent Calls to Active Duty | Retirements | Recent Deaths
---
DHHS, Office of Public Health & Science
Office of Commissioned Corps Force Management
Tower Building
1101 Wootton Parkway, Plaza Level 100
Rockville, MD 20852